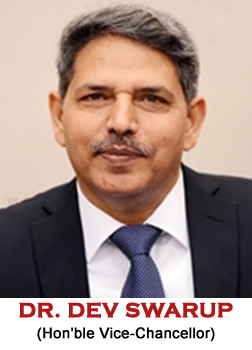 Dr. Dev Swarup, founder Vice-Chancellor (March 2020- ) of Dr. Bhimrao Ambedkar Law University, Jaipur has been deservedly entrusted with the radical mission of establishing a model University to enhance and foster the academic standards of legal education in the state of Rajasthan. Under his able stewardship, the University is mandated to extend affiliation to the law colleges in the state to transform and redefine the process of legal education and research so as to benefit students and society at large.
In a long and illustrious career spanning over three decades in the field of educational administration in India, Dr. Dev Swarup has earned national and international recognition for his academic and administrative acumen. A former Additional Secretary, at the apex statutory body of Indian Higher Education, the University Grants Commission (UGC), he played a stellar role in planning and execution of crucial educational policy matters at the highest levels in the nation. Before that he had earned repute as a dynamic and prominent constitutive functionary at the UGC for more than 25 years. This included his efficient and immaculate stint as Joint Secretary, UGC for more than a decade.
As the Vice-Chancellor of University of Rajasthan (2013-2014), he earned laurels and popular acclaim for his unique organisational and administrative skills, and for his exemplary integrity and steadfast honesty in the conduct of his duty. He initiated reforms in university governance, curriculum design, classroom conduct, transparency in affiliation processes, clarification and redefinition of the ambiguity in regular and self- financing courses. Under his guidance, the University bloomed during his tenure and once again seemed to relive the history of its glorious past. His tenure is Vice-Chancellor is considered a landmark and the standards of excellence set by him for the institution remain as benchmarks of good governance.
Dr. Swarup has earned repute by his administrative dexterity in carrying out the many multifarious roles and tasks he has accomplished in his remarkable career. He has significantly contributed in policy formulation at various levels of Higher Education in India with a significant presence in numerous committees of the Ministry of Human Resource Development(MHRD), the Planning Commission, the University Grants Commission (UGC) and the Indian Council of Social Science Research(ICSSR). Being in the Governing Board and Finance Committees, his innovative propositions and active interventions have benefitted several Indian Universities intrinsically.
Dr. Dev Swarup's enthusiasm and passion for reform in higher education led him to travel extensively to represent India at many global platforms. Congruently, his communication skills and negotiating capacity, and his congeniality have led to close working relationships with his counterparts in several countries like USA, Canada, United Kingdom, Australia, France, Germany, Sultanate of Oman etc. Dr. Swarup is recognised as a man of commendable significance in the field of Area Studies and Internationalisation of Higher Education.
Dr. Dev Swarup is recognised not only for unique administrative competence but also for his academic brilliance which is testified to by an outstanding record and D.Litt and Ph.D degrees in Social Sciences. Apart from his professional commitments, he has created time and space engaging himself in inactive academic discourse. He has been a Visiting Professor at the Institute of Foreign Policy Studies, University of Calcutta. He is blessed with remarkable linguistic proficiency and eloquence, coupled with a vast knowledge of poetry and literature, and consequently, he has been widely acknowledged as an enthralling speaker at various National and International platforms. He is a connoisseur and patron of the arts and Indian culture which he has always consciously integrated and promoted through his administrative roles.
As a founder Vice-Chancellor of Dr. Bhimrao Ambedkar Law University, Dr. Swarup in now enthusiastically ready and set to assume the crucial responsibility which has been placed on his shoulders of establishing the highest standards of quality legal education which will be inclusive and interdisciplinary. His vision is that the University, with its residential campus in Jaipur, will earn a name for itself not only in India but Internationally as one of the most prestigious Law Universities in the country under his dedicated stewardship.